Top 5 Things to See and Do in Paris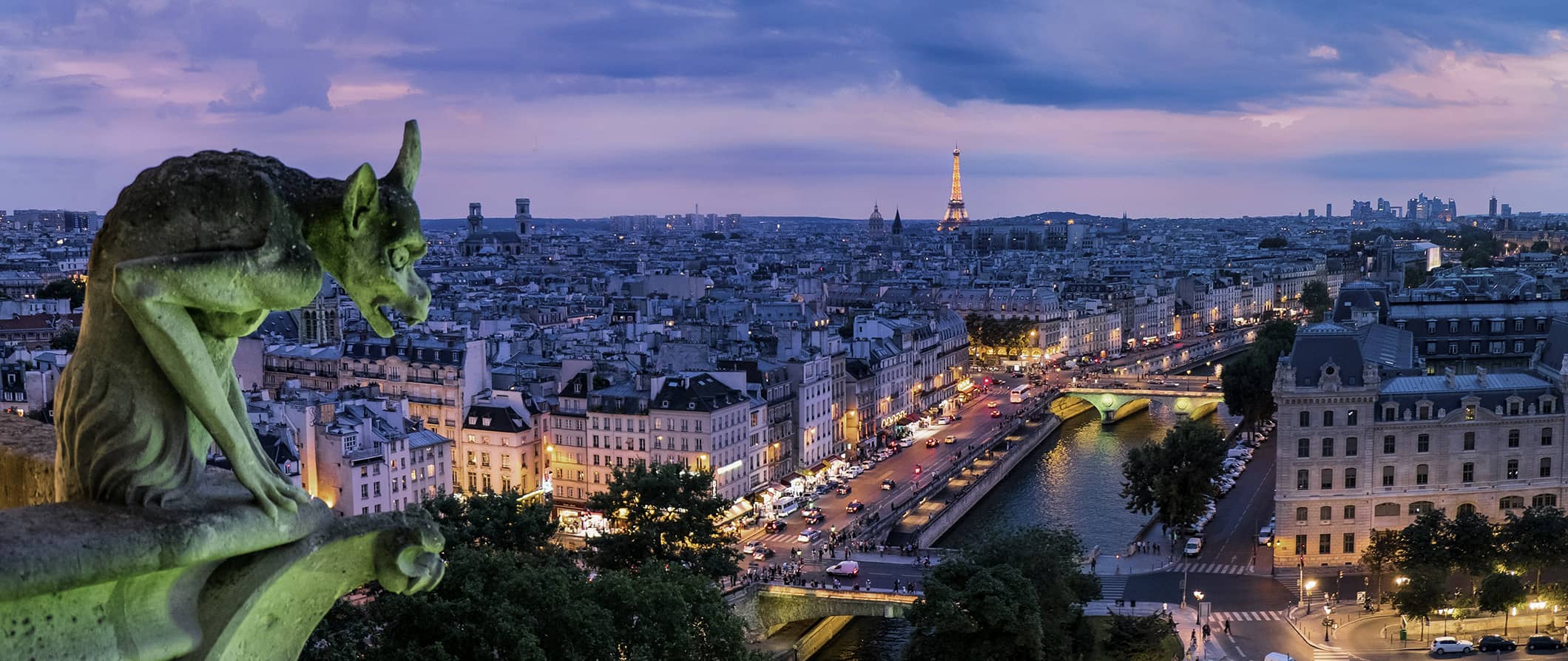 Paris. Poets, artists, playwrights, writers, journalists, and more have all written about their love of this city….and it's hard not to fall in love with Paris. It's a place that exudes culture, sophistication, class, and style. And, like the millions before me, I fell in love with this city the first time I visited.
Paris is one of the few cities in the world that truly lives up to its hype.
As Hemingway said, "If you are lucky enough to have lived in Paris as a young man, then wherever you go for the rest of your life, it stays with you, for Paris is a moveable feast."
Paris is gigantic, with thousands of years of history. It would take a lifetime to visit all of Paris. It can be overwhelming for most people.
I've spent years visiting, running tours, and even living here and this travel guide to Paris will help you plan the perfect trip to this beautiful city by giving you on and off the beaten path things, costs, money saving tips, and everything in between!
Top 5 Things to See and Do in Paris
1. Scale the Eiffel Tower
Built for the 1889 World Fair, the 300-meter tower is an engineering feat that was originally hated by locals. They called it "the metal asparagus." Now it's a symbol of the city. Get there early to avoid the lines.
2. The Palace of Versailles
A visit here requires a whole day (don't skip Marie Antoinette's home and spend time walking spacious gardens). Summer weekends are the best time to visit the garden, as the fountains are set to music then. Admission to the palace is €20 ($22 USD) and admission to both the palace and the gardens is €27 ($30 USD).
3. Explore the Louvre
The Louvre is the biggest museum in the world with thousands of square feet of space and millions of works, including everything from the Mona Lisa to the Venus de Milo. To see it all, you'll need at least two full days, but you can do the highlights in a full afternoon. It costs €17 ($19 USD).
4. Take in the Latin Quarter
A historic area near the Notre Dame, the Latin Quarter is filled with tiny, winding streets that turn at weird angles to open into little cafe-lined squares. I love wandering around here: it always feels like you're stepping back a few hundred years in history. There are a lot of restaurants, bars, and jazz clubs here.
5. Visit Sainte-Chapelle
This is my favorite church in Paris. I find this Gothic church to be far more beautiful than the nearby Notre-Dame. It's tiny, but the (mostly) original interior and stained glass and décor are exquisite, and one of the few remaining examples of original stained glass in France. There's usually a long line but museum pass holders can skip it. It's €15 ($17 USD).
Other Things to See and Do in Paris
1. Go museum hopping
The Louvre might get most of the attention, but there are plenty of other great museums in the city. Make sure you especially check out the Musee D'Orsay for great impressionist work, the amazing Rodin museum, Holocaust museum (one of the best in the world), Musee D'Orangerie (more impressionist work), and the interesting sewer museum to start. There are so many museums in the city that you won't run out of something to see! A museum pass is the most affordable way to do this. A two-day pass costs €48 ($53 USD), a four-day pass costs €62 ($69 USD), and a six-day pass costs €74 ($82 USD).
2. Walk the Champs Elysees
This is a very prestigious avenue in Paris with cinemas, cafes, luxury specialty shops. It's also one of the most famous streets in the world, running down from the Arc de Triomphe to the Louvre. It is always busy and always expensive, but it's a great place to club hop at night or snap photos during the day. Come in the very early morning to see the place utterly deserted. It makes for great photos.
3. Visit the Panthéon
Located in the Latin Quarter, this neoclassical building was originally built as a church but was turned into a state burial site for France's heroes, like Marie Curie, Victor Hugo, Jean-Jacques Rousseau, Louis Braille, and Voltaire. The scale of the building is impressive — after all, it the peristyle was inspired by the Pantheon in Rome. Admission is €9 ($10 USD).
4. Relax in Jardin Du Luxembourg
The Jardin du Luxembourg is the largest public park in Paris. The garden contains just over a hundred statues, monuments, and fountains, all scattered throughout the grounds. In the morning, you'll see lots of runners. At lunch on a nice day, a park full of people having a picnic (which is something I highly recommend you do!).
Paris Travel Costs
Hostel prices – During peak season, a bed in an eight bed room (or more) will cost from about €33 ($37 USD) per night. A bed in a four-six bed room will cost between €45-54 ($50-60 USD) per night. You can find beds for as low as €23 ($25 USD) per night, but they're either far from town or have low ratings. In the off-season, a bed in an eight bed room (or more) will cost from about ($20 USD) per night, while a four to six bed room will cost from about €24 ($27 USD).
A basic single private room with an ensuite bathroom costs from €108 ($120 USD) per night during peak season. In the off-season, a single private room with an ensuite bathroom costs from about €70 ($77 USD) per night.
Budget hotel prices – Nightly rates for a budget two-star hotel room start at about €113 ($125 USD) per night in peak season. In the off-season, budget rooms start from €90 ($100 USD).
On Airbnb, you can find shared rooms in apartments averaging about €31 ($35 USD) per night. The average private room is €52 ($58 USD), while the average price for a full apartment is about €106 ($117 USD) per night.
Average cost of food – Luckily, buying your own food is cheap. There are many bread, cheese, markets, and meat shops throughout the city. It's common to pick up some ingredients and have a picnic in one of the city's many parks. Creating your own meal will cost around €9-15 ($10-17 USD), depending on what you buy and if you get wine.
Eating pre-made sandwiches from the city's takeaway shops, crepes, or fast food generally costs between €6-10 ($7-11 USD). If you want to eat at a restaurant (the French are known for their culinary skills, after all!), try doing a "prix-fixe" meal. It's a set menu that offers you a deal on a 2-3 course meal for about €20 ($22 USD).
To save even more money, consider lunch instead of dinner (which, in France, is still typically two courses). Expect to pay between €25-40 ($28-44 USD) for dinner at a nice restaurant including wine. Try to avoid the tourist areas, where prices around about 10-30% higher, if you want to save money.
If you're cooking for yourself, you can expect to pay about €50 ($55 USD) for a week's worth of groceries (basic staples), but if you find a discount grocer like Aldi or Lidl, you'll pay way less
Paris Travel Guide: Money Saving Tips
Get Discounts at The Louvre – The Louvre is free after 6pm on Fridays if you're under 26, and on the first Sunday of October to March. It is closed on Tuesdays. It's located in the center of the city and has two metro stops – both marked "Louvre." Get off at either one. If you enter from the Louvre stop, you'll be able to skip the line.
Buy a metro card – Paris has over 300 subway stations, so it is easy to get around the city. A day pass is only €13.20 ($15 USD). Moreover, if you buy 10 tickets or a "carnet", it only costs about €14.50 ($16 USD), much cheaper than the €1.90 ($2.10 USD) for each individual ticket. The day pass, called ParisVisite, also gives you discounts to some major Parisian landmarks.
Have a picnic – With so many beautiful parks and outdoor gardens, it would be hard not to take advantage of this. Eating in Paris is cheap when you do your own shopping. Buy some bread, cheese, and meat at the local shops and have an outdoor picnic. It's fun and will cost you a fraction of what a restaurant would.
Paris Museum Pass – This is a prepaid card that gets you access to over 70 museums and monuments around Paris. A two-day pass costs €48 ($53 USD), a four-day pass costs €62 ($69 USD), and a six-day pass costs €74 ($82 USD). This is perfect for the museum hopper and for anyone that wants to save money and get ahead in line. Since most people visit lots of museums in the city, you're pretty much guaranteed to save money.
Paris Pass – This is a super-sized version of the Paris Museum Pass and is for people who are going to be doing heavy sightseeing in a short period of time. You can purchase a two-day pass for €130 ($144 USD), a three-day pass for €165 ($183 USD), a four-day pass for €205 ($227 USD), or a six-day pass for €245 ($271 USD). It includes a TON of sights, the ability to skip lines, and a free hop-on, hop-off bus tour (in addition to everything in the Paris Museum Pass).
Free museum admission – All national museums are free admission on the first Sunday of every month. If you happen to hit this day, be aware of potentially large crowds and long lines.
Dine out during lunch – Food in Paris is not cheap. It will cost you an arm and a leg to eat here but during lunch, restaurants do a pre-fixe menu for between €10-15 ($11-17 USD). It's the same food you would buy for dinner but at half the cost. When I eat out in Paris, I do so during lunch so I can still eat amazing French food without it eating my entire wallet!
Cook your meals – The best way to save money on the road is to cook your own meals. Many hostels, campsites, and guesthouses have kitchens. No kitchen? Pack your own container and silverware and make some sandwiches and salads on the go.
Couchsurf – There are a lot of hosts in this city and with restaurants and accommodation so much, I highly recommend trying to find a host on the website where you can get a kitchen, a place to stay, and local friend to show you around. The community here is very active and friendly!
Save money on rideshares – Uber is way cheaper than taxis and are the best way to get around a city if you don't want to wait for a bus or pay for a taxi. The Uber Pool option is where can you share a ride to get even better savings (though you can get your own car too). You can save $15 off your first Uber ride with this code: jlx6v.
Take a free walking tour – If you want to get a great overview of Paris, take a free walking tour with New Europe Tours. Don't forget to tip!
Remember that water is free – When you order water at a restaurant, make sure you ask for tap water. They'll try to provide bottled water and charge you for it, but tap water is free and safe to drink.